Buying at Auction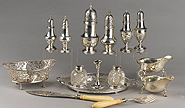 At Henry Adams, we make the entire process of buying and selling at auction as easy and as flexible as possible, both for the regular experienced buyer and for the first time or novice buyer. In what follows you will find a guide which hopefully explains how it all works. If, however, you would like any further information or clarification then please do not hesitate to contact us, either by telephone or email.
Attending a Sale in Person
If you are intending to bid on an item, the first thing you need to do when you arrive is register at the Auction Office in order to collect a bidding number. This should be done either before the start of the sale or in good time before the item you are interested in comes up for sale.
Once the sale is in progress, to bid on an item you clearly hold up your bidding number in clear view of the auctioneer. If you are successful you winning number will be announced by the auctioneer.
Once you have finished bidding for items, make your way back to the Auction Office to pay for your items.
Absentee (Commission) Bids
Henry Adams will be pleased to execute bids on your behalf if you are unable to attend the sale in person. Buyers are advised to check on the day of the sale to see if they are the successful bidder.
All bids must be received by 10am on Sale Day otherwise the bids may not be placed. A commission bid form can be downloaded here to print out and fax to us on 01243 532299.
Alternatively, you can contact us about a commission bid on a specific item by using the form on the lot details page.
Please, we cannot stress enough how important it is to email or fax us your bids in good time! Lots of people send emails presuming they arrive instantly and in many cases, this simply does not happen due to a number of reasons (spam filters, problems with email servers at 'both ends' etc.) and we receive bids too late. To avoid this, we encourage you to email or fax your bids to us the day BEFORE a sale.
We always email back a 'confirmation of receipt' so if you do not receive one, you must presume we have not received your bid!
Telephone Bidding
If you are unable to attend, we will be pleased to facilitate telephone bids on those lots with a minimum published estimate of £500. Since lines are limited, please make arrangements for this service well in advance. Telephone bids are accepted on a 'first come first served basis'.
Payment
Buyers are reminded that a premium of 20% plus VAT is payable on the hammer price for lots in our sales. We accept the following methods of payment:
Cash
Cheque (supported by guarantee card)
Bankers' Draft/Building Society Cheque
Bank Transfer
Debit Cards *
Credit Cards *
* A surcharge of 2% plus VAT is applied if you pay by this method. No charge is made for payment by a Debit Card

Collection of Goods
Goods cannot be removed by buyers until they have paid in full. A charge is made for goods still remaining uncollected 10 days after the sale.
If you are unable to collect goods in person we recommend Mailboxes collection, packing and delivery service. They can be contacted on 01243 788221. We do not operate a post and packing service ourselves.
Selling at Auction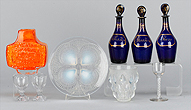 The whole process starts with either a visit to our saleroom with an item, or with a visit to your home by a representative from the saleroom, usually our Saleroom Manager, Cliff Beacher.
We also offer free Valuations Days - please click here for further details.
Once it has been agreed that your item is saleable at auction and you are happy with the estimate/reserve we have recommended, it will be entered into the appropriate sale.
Reserve Price
This is the minimum price at which the item will be sold. It will be agreed with the vendor in advance. It is normal to allow the auctioneer discretion of 10% of the reserve price, e.g. £90 on an item with a £100 reserve or £180 on an item with a £200 reserve. If bidding slows at the discretion figure the auctioneer will sell at that price.
Please note: we do not place reserves on items deemed by Henry Adams to be worth less than £100. In the case of such items, they will sell to the highest bidder on the day.
If you visit the saleroom in person, a Client Property Receipt & Contract will be completed. You will be asked to sign this and a copy will be given to you for your records.
If we visit your home to view items for one of our sales, you will be told of the closing date for the relevant sale - the latest day by which to get the items to Baffins Hall. If you are unable to deliver the items to us yourself, we will be happy to recommend a carrier who will be able to do this for you, although this is at your cost.
We will either list the items on a receipt during our visit with your or send a Receipt & Contract to you in the post to sign, once the items have been received into the saleroom.
Charges
Commission
Our commission for sales is 15% plus VAT.
Insurance
All items left for sale are covered by insurance. A charge of 1.5% plus VAT of the hammer price is made to cover this.
Withdrawal from Sale
A charge is made for withdrawing an item prior to sale, once the catalogue has been published. The fee is 5% of our estimated reserve or a minimum of £25.
Illustrations
Lots may be subject to a small illustration charge please contact us for more information
Advertising
Regular advertisements are placed in local and regional newspapers and also in the Antiques Trade Gazette, the weekly publication for the antiques industry.
On-Line Catalogue
Our sale catalogues are available to view on-line, free of charge here and selected sales via The Antiques Trade Gazette
Settlement Terms
We pay clients 28 days after our sales. In the event that a buyer fails to settle his invoice with us we may not be able to settle with our client, but will keep our client informed at every stage if it occurs. We do not release client items to the buyer until payment has been received in full.