About Us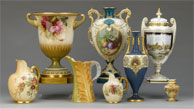 Our auctions are held at Baffins Hall, Chichester, West Sussex in the south of England on a monthly basis throughout the year.
Baffins Hall is in the heart of the historic city of Chichester, a few minutes from the mainline station and with several car parks in the immediate vicinity. It has been a furniture saleroom since 1913 and regular auction sales have been held there for nearly 100 years. Prior to that it was a Unitarian Chapel dating from 1672. It's wonderful barrel ceiling, original galleries and stained glass windows make a perfect setting for the sale of antiques and collectables.
Categories featured in our auction include Antique Furniture and Clocks, Paintings, Silver, Jewellery, Ceramics & Glass, Works of Art, Carpets & Rugs, Bronzes and Collectors' Items.
All sales are on view on the Tuesday and Wednesday preceding the auction and in the case of our Selected Antiques & Fine Art Sales in April, July and October only, there will also be viewing on the preceding Saturday morning.
We combine our knowledge and expertise with old fashioned personal service. Our policy is to set high standards, to use our collective experience to give excellent value and most of all, to retain integrity in everything we do.
We use modern technology and place our catalogues on the internet and together with extensive advertising, this ensures we reach a World-wide audience.
We also offer a free valuation service throughout the south of England. We regularly hold free valuation days at our Baffins Hall Salerooms and at Henry Adams estate agency offices in the region. For larger items such as furniture and collections, we are happy to visit your home to inspect.
History of Baffins Hall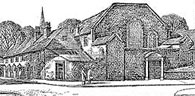 Baffins Hall Chapel, or Meeting House as it was called in its earlier years, was built between 1672 and 1680. A Presbyterian Chapel had been built in Eastgate Square in 1671 but due to the size of the congregation, this second chapel soon followed in what is now known as Baffins Lane.
In 1721 the chapel buildings, which until then had been privately owned by George and Elizabeth Carver, members of the congregation, were purchased for £90 by a Trust set up by the congregation. About this time, the building underwent change. The roof was modified and the barrel ceiling created; the round-headed windows on the East front were inserted and an entrance hall with a fine classical doorway was added. From this hall, a new staircase rose to a gallery which also may have been an addition at this time.
The roof structure is unusual. Externally, the building has two parallel pitched roofs running east to west, but the internal form does not reflect this. The columns which support the gallery continue upwards to a form of Queen post which spreads across both the parallel roofs and carries the barrel ceiling.
Read more...