Valuation Services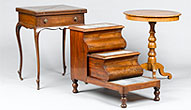 We will be delighted to inspect and value items for future sales, free of charge and without obligation, at Baffins Hall, at your home for larger items or, for silver and jewellery, at your Bank if this is more convenient. We also specialise in providing written valuations for insurance, probate and family division.
Probate Inheritance Tax Valuation Service
We aim to provide a quick and efficient service for Executors of estates by keeping the administration to a minimum and enabling the estate to be dispersed quickly. As soon as we are contacted, priority is given to visiting the vacant premises, carrying out a valuation and advising on the best means of disposal of the property and contents.
We provide you with two bound copies of a Valuation Report, one for you to keep and one to pass on to solicitors etc. A fee will be charged for such valuations but may be waived or partly refunded if the items are later sold through our saleroom. Once matters with the estate have been settled and it has been decided to sell all or part of the contents through our saleroom, our carriers can remove the saleable items and this can be followed by a clearance and sweep through service by a house clearer if required. We can organise this for you.
Insurance Valuation Service
With burglary an ever-increasing problem and with fire an ever-present possibility, it is the responsibility of every householder to prove to their insurance company the extent of any loss they may suffer. Allied to this are the increasing values of antiques and fine art which many people fail to realise or simply become out of touch with current values.
A detailed valuation provided by Henry Adams will give an overall total for an entire house contents, listing all the more significant items. Charges are agreed in advance and are based upon time spent rather than a percentage of the total. Our minimum charge is £150 plus VAT.
Appointments for Probate (now known as Inheritance Tax) or Insurance Valuations can be made by contacting us on 01243 532223.
Valuation Days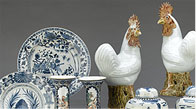 We hold a Valuation Day at Baffins Hall once a month when you can come along with any items you are considering selling by auction for a free appraisal by one of our valuers.
This is an ideal time to bring along your small items such as pieces of silver jewellery and watches, paintings, clocks, ceramics and glass and other 'collectables'. For larger pieces such as furniture, we will be pleased to come to your home to inspect the items to give you an idea of their auction value.
The next Valuation Day is:
Tuesday 17th October - 10:00am to 4:00pm
Silver, Clocks, Collectables, Ceramics, Glass, Paintings & Small Items of Furniture with Andrew Swain
No appointment necessary, just turn up between the times stated. You may have a small wait of five or ten minutes to see the valuer. If you have any questions regarding valuations please call us on 01243 532223 or fill in this form and we'll get in touch.