Glossary of Terms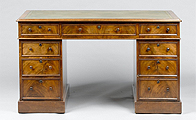 Lot numbers
Each item to be auctioned carries a number to identify it.
Estimate
This is an approximate guide to the price that a lot is expected to realise.
Reserve
This is an amount pre-agreed with the vendor that bidding must reach in order to sell. The item will not be sold for less than this amount, subject to a 10% auctioneers' discretion. Reserves are not made public by Henry Adams
Note: Henry Adams do not place reserves on items we deem to be worth less than £100
Commission Bid
You can leave your bids with us and we will endeavour to buy for you, as cheaply as possible. The bidding does not start at the amount you left it will start well below, subject to other bids that may have been received.
Telephone Bid
A limited number of telephone lines are available if you are not able to come to the saleroom but still wish to bid in person. Telephone lines are only available for lots with a published estimate of at least £500.
Hammer Price
This is the price that the lot is sold for at auction. In addition to this price, the buyer will have to pay a 'buyer's premium' charge of 20% plus VAT.
Artist's Resale Rights (ARR)
Since 2006 the Right has only been paid to living artists. However, from 1 January 2012 the right extended to include sales of works by artists who have died within the last 70 years (following the existing term of copyright). Artist's heirs and beneficiaries will be entitled to a resale royalty of 4% of the hammer price when any artwork is sold for €1000 (approx £830 depending on the exchange rate) or more. Purchasers of such works will be required to pay the 4% Resale Right when settling their account with us for the item purchased which is then submitted to the Artists Collecting Society who administer the payments to heirs and beneficiaries.
Buyer's Premium
All purchases are subject to a buyer's premium charge of 20% plus VAT.
The Sale Process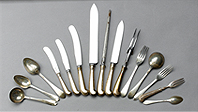 Valuation
Auctioneers spend most of their time assessing the value of items. Many carry out valuation for Insurance, Probate and Tax purposes and provide detailed written reports where necessary. A fee will be charged for such valuations but may be waived or partly refunded in the case of Probate/Inheritance Tax valuations if the items are later sold through our saleroom.
We will give a free verbal valuation on items brought to the saleroom, not requiring a formal written valuation. We regularly hold Valuation Days - click here for further information.
Cataloguing
Once an estimate has been agreed and the item reaches the saleroom a catalogue description will carefully be prepared. A catalogue is then produced which goes on sale to prospective purchasers or can be viewed free of charge on our website.
Lotting Up
As Sale Day approaches, each item has a lot number attached and the saleroom is laid out for display during the viewing days.
Advertising
Good publicity is the key to the success of an auction. Henry Adams make personal contact with major buyers when important pieces come up for sale.
Viewing
This is the time to discover minor faults not mentioned in the catalogue and to satisfy yourself as to the condition of a particular piece. An auction is usually on public view two days prior to Sale Day itself.
Condition Reports
We will provide a condition report and/or image for potential buyers unable to attend the saleroom in person. This gives details of wear and damage but a written report is no substitute for viewing the object in person, something we strongly advise everyone to do. The report is our opinion of the condition of a piece. We can provide this service up until 3.30pm on the day before a sale and requests can be made via email or telephone. As this is a courtesy provided to our clients, we limit the number of condition reports/images to five per person so we can help as many as possible in the time available.
The Porter
Behind the scenes, the porters ensure the sale runs smoothly. As the name implies, the porter is responsible for making sure that the goods are in the right place at the right time and he must see delicate pieces through the hazardous process of viewing. The porter knows where everything is and he has his eyes everywhere!
Your Purchases
Once a lot has been paid for, it becomes the buyer's responsibility to remove it from the saleroom. We are unable to offer a post and packing service but we can recommend 'Mailboxes' based in Chichester if you require items packed and sent to you (telephone 01243 788221).